Strategic Planning and Information Management
Technological and analytical innovations have emerged in recent years as a method for facilitating the rapid transmission of public health surveillance data, thereby assisting in the timely detection and response to outbreaks and other public health events. In order to cope with current global trends, the ZNPHI developed the electronic IDSR using the DHIS2 and was deployed at sub-national level. This system collects, collates, and analyses public health data on all notifiable diseases and events. The department has a deliberate policy on data interrogations, informatics, data security, and storage as well as data use, working with the other departments that collect data, however, there is a gap in electronic data capturing gadgets, human resources, multiple parallel systems (COVID- 19 trackers, excel sheets, COVAX) for reporting public health data from subnational to national level, resulting in discrepancies in data being reported on the disease or event. e.g. COVID 19 to efficiently affect these polices.
Furthermore, the infrastructure for data management including collection, analysis, and storage is inadequate. There is a challenge in collating data that is collected through different systems including SDI, EPR, and LSN. Data and systems interoperability with the clinical and 'one health' systems remain key and therefore a need to have health information systems that are flexible and broadly encompassing, including mechanisms that allow for scaling up or down of information. The ZNPHI ACT allows for the establishment of a data repository. A draft Statutory Instrument is in place to facilitate the establishment of the Public Health Data Repository.
Data harmonization and data sharing are key components. The ECHO platform is used for communication with the subnational levels. ZNPHI has equipped 29 districts with equipment. There is a need to establish and implement the ECHO platform and a Community of Practice for stakeholders in public health security in all districts.
On the other hand, the institute has no planning department which is essential for coordination of program implementation and performance to ensure realization of the institute`s objectives. Consequently, the institute rides on the existing departments' routine annual planning and budgeting for public health programs.
Regarding research, the institution's public health research agenda has focused on operational research, secondary analysis, and knowledge translation of routinely collected data and outbreak investigations. The ZNPHI has full access to data on notifiable diseases of public health significance. Detailed analysis of this and other data helps the institute to timely prepare and respond to public health emergencies as well as inform program and policy direction. Research is driven through all the departments. SIM coordinates research requirements such as applications for Ethics approval and authority from NHRA. The department is in the process of establishing a TWG on Research to expand capacity in research. Research requires additional human resources, finances, and capacities in grant writing.
Public Health Policy, Diplomacy and Communication
While the institute recognizes public health policy, diplomacy communication as an essential strategy that can make important contributions to promoting and improving the health of individuals, communities, and society, it lacks institutional internal and external communications strategies as well as dedicated structures for public health policy, diplomacy and communication. The institute has in the last five years anchored on the Ministry of Health's polices, mainstream communications strategies and implementation.
The institute recognizes the community as a core stakeholder in public health, particularly in prevention and control of disease and adoption of public health and social measures of interventions. Social behavioral change communication is an important strategy, to move this agenda, rapid assessment and KAP studies must be conducted to ensure evidence based strategies are drafted and in use.
To facilitate efficiency in public health communication, the ZNPHI has leveraged the following channels of communication: The Health Press Zambia, an institutional public health bulletin, high-level reports; parliamentary statements; press briefs, a website; traditional and social media platforms, and a call center. Most of the communication has been given through the Ministry of Health mainstream by either the Minister of Health or the Permanent Secretaries. The media are considered a key partner in public communication. The institute will need to strengthen partnerships and build capacity in health reporting.
As a result of COVID-19 Pandemic, The Health Press has not been updated efficiently and is a year behind. Furthermore, the call center leverages on the DMMU toll-free number and this many a time is crowded leaving a gap in communication to the public.
Surveillance and Disease Intelligence (SDI)

Surveillance and Disease Intelligence (SDI) Cluster is mandated to ensuring early detection and reporting of potential health threats, notifiable diseases, public health events and changes in epidemiological trends through the timely collection, analysis, and dissemination of data for action. The aim is to strengthen and equip the national surveillance system to generate timely, high quality data about all nationally notifiable and priority diseases. The mandate is facilitated through the following functions performed by the cluster which involve to :
Coordinate and provide oversight to surveillance activities across the country.
Equip and strengthen surveillance system at all levels to generate timely, high quality data.
Conduct non-communicable diseases surveillance
Coordinate cross border surveillance and surveillance of all national priority diseases, conditions and events
Conduct routine analysis and operational research using surveillance data that will facilitate policy making
Conduct sentinel and event based surveillance
Coordinate and collaborate with animal and environmental health sectors and other stakeholders to implement one health approach to disease surveillance and control.
Implement a one health approach in disease surveillance
Develop a shared mechanism for surveillance and risk assessment for animal and environment risks to human health.
Field Epidemiology Program

The International Health Regulations (IHR) 2005 require that all countries have the ability to detect, assess, report, and respond to public health events. Ensuring the health security of Zambia and the world at large depends on a skilled public health workforce in line with the IHR 2005, the Africa We Want and the African Union's Health Strategy 2016-2030. One of the core elements WHO Joint External Evaluation measures capacity to comply with the IHR 2005, is having a field epidemiology training program; specifically having one field epidemiologist per 200,000 populations. Thus the main aim of the Zambia Field Epidemiology Training Program (Zambia FETP), within the pillar, is to strengthen field epidemiology capacity and effectively contribute to addressing epidemics and other major public health problems in Zambia.
The Zambia FEP is an applied epidemiology training program designed to strengthen public health capacity within ZNPHI and the Ministry of Health. Zambia is currently running Frontline and Advanced FEP. Frontline FEP's focuses on district-level health security while the Advanced FEP focuses on national level health security. This mirrors the public health surveillance system in Zambia. The mandate is facilitated through the following functions performed by the cluster which involve to :
Assure the quality of FEPs and FEP network-level elements.
Build knowledge and skills of the FETP community
Strengthen and prepare a field epidemiology workforce and define its role in global public health systems.
Continue organizational excellence of the Field Epidemiology Program Secretariat.
Expand the FETP to serve all regional member states.
Public Health Laboratory Systems

The main function of the Public Health Laboratory Service (PHLS) cluster is to develop an effective, fit-for-purpose public health laboratory system that encompasses a network of laboratories. This is essential to provide specialized capabilities for the detection, prevention, control and response to diseases, public health threats and events of public health significance. Actualizing this entails, the establishment of an adequately resourced dedicated national public health reference laboratory appropriate infrastructure, equipment and competent staffing. The reference laboratory will serve as the 'Apex' laboratory in a multisectoral network of public health laboratories and institutions. In addition to establishing dedicated public health laboratories, efforts will continue to strengthen the capacity (human resource, equipment, systems, practices, etc.) of existing clinical laboratories, animal health sector laboratories, research laboratories and other participating entities. Based on their competencies and comparative advantage, these existing laboratories are recognized as a key component to enable the national public health laboratory system function optimally, in the spirit of 'One Health'. On the whole, the national public health laboratory system is key to anchoring a coordinated and holistic system for surveillance, prevention and control of public health threats and the conduct of research. The mandate is facilitated through the following functions performed by the cluster which involve to :
Establish a functional National Public Health Laboratory System to support surveillance, prevention and control of disease threats and other conditions of public health interest.
Strengthen laboratory systems and networks to support emergency response to public health threats.
Establish and maintain a Biorepository for collection, curation, storage, preservation and containment of specimens and materials from disease outbreaks, public health events, and other situations of public health interest.
Reduce the threat of antimicrobial resistance (AMR) and stem its spread.
Public Health Security System Strengthening

The Human Resource Management (HRM) pillar shall be responsible for managing the Institute's human and other resources to improve organizational performance and ability to effectively detect, assess, report, and respond to public health events. In addition, the pillar shall be responsible for the provision of administrative and logistical support services to enhance smooth operations of the Institute. The mandate is facilitated through the following functions performed by the cluster which involve to :
Facilitate the identification and deployment of trained staff to support public health security.
Coordinate and identify training needs in various functional areas
Coordinate short, medium and long-term training to build health security capacity
Create a conducive work environment for staff to efficiently carry out the ZNPHI mandate
Conduct staff awareness programmes for ZNPHI staff
Performance Management
Emergency Preparedness and Response
ZNPHI developed a number of strategic documents which include guidelines and SOP's for use in public health emergencies although others still await finalization. The completed documents include EVD, Covid-19 guidelines and All Hazards plan. Efforts are underway to finalize other key documents such as the VRAM, NAPHS, PHEOC, Integrated SOPs and Contingency plans. Further, as we endeavour to strengthen public health security, a number of key documents need to be developed in line with emerging public health threats such as illnesses of Public health potential (SARS, COVID, MERS etc). Other diseases include Cholera, Typhoid, ECOLI and Viral Hemorrhagic fevers.
As a National Focal Point for IHR 2005, ZNPHI anchors IHR activities under the EPR pillar which coordinates the implementation including policy and compliance, conducting State Parties annual reviews, and Joint External Evaluations. Coordination of IHR activities is mostly done at the national level whereas sub-national levels and stakeholders currently do not have the technical know-how on IHR implementation, Compliance, Monitoring and Evaluation. Plans are underway to form the National, Provincial and District TWGs so as to expedite processes and activities needed for IHR coordination.
EPR also coordinates the National Epidemic and Response Committee and supports the subnational levels in terms of guidance and logistical support. As a standard, Epidemic and Response Committee meetings are supposed to be held quarterly and sometimes ad-hoc in emergency settings as they are meant to inform the technical teams on epidemic management. Currently it has been observed that NEPC, PEPC, DEPC have not been fully functional at all levels due to luck of TORs.
Since its establishment ZNPHI has built capacity in different cadre of healthcare workers for public health security. These include Rapid Response Teams trainings that were conducted countrywide in view of the 2017-2018 Cholera outbreak and the of COVID-19 pandemic. Although a significant number of healthcare workers were trained as RRTs, coordination remains a challenge as the program lacks clear programming because of absence of TORs and non-availability of inventories for surge staff especially at sub-national level.
There is an established operational Optimal Emergency Operation Center (EOC)at National level which predominantly has mainly been focussing on covid-19 and other specific diseases such as cholera. With threats of emerging and re-emerging diseases such as polio, EVD and others, scope needs to be widened as to extend to other diseases of public health concern. Currently, EOC at national level is somewhat fragmented as some diseases are managed by specific units designated to coordinate such as Vaccine Preventable Diseases under the Child Health Unit at ministry of health.
Public Health Security also entails having in place safeguards for epidemic preparedness and response, this includes infrastructure, Logistics management for preparedness – understanding key commodities ready for deployment, contingency for various response activities, emergency stockpiles ready for deployment and emergence funds for quick action.
However, there is inadequate capacity especially at lower levels in Incident Management System (IMS) skills, IMS structure are not present both at policy and implementation level to facilitate easy coordination to disease preparedness and response.
Public Health Policy, Diplomacy and Communication
Transport
Maintaining an effective transport system is essential for public health security. The institute continues experiencing transport constraints, which adversely impact operations. currently the institute has 30 utility vehicles at national level and out of the 116 districts, no district has dedicated utility vehicle for public health activities and only about 20% of the 116 district have motorbikes for courier of specimen from facility level to district level.
Physical Infrastructure
Physical health Infrastructure is a vital physical input for improving public health security, therefore Zambia has a plan to construct a national public health institute with support from partners. Despite these plan, significant gaps still exist in the area of physical health infrastructure in that at national level the rented office spaces are inadequate as the institute is expanding, Furthermore, Zambia has inadequate public health laboratory infrastructure to support diagnostic function of public health events detected in districts to inform timely response. This infrastructure challenge affects the point of entry to adequately serve populations in and across the long and porous borders with its 8 neighbours. In addition, there is inadequate spaces designated for use as isolation facilities for infectious diseases in clinics and hospitals.
Public health Financing
ZNPHI financial support is mainly through cooperating partners and GRZ. whose goal is to attain adequate sustainable and predictable financing, through existing and new sources. The GRZ through the ministry of health allocated an average of 0.13% to the institution from 2017 to 2022.The budget allocation to the intuition has been increasing from 0.06% in 2017 to about 13% in 2021.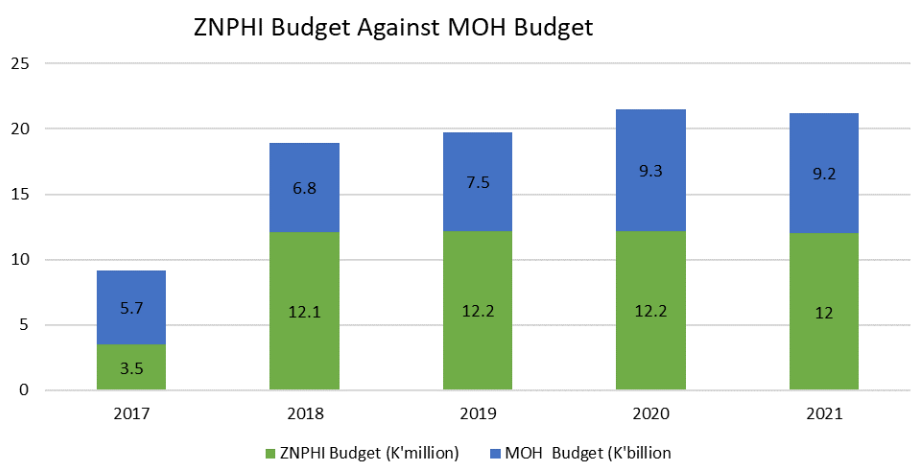 However, despite these observable increments in the budget, the funds allocated are still inadequate for the institutions day to day operations in regards to public health security. Other challenges include the following: erratic funding of the allocated GRZ funds, delayed in the debasement of funds by partners. slow burring rate on budgeted activities due to bureaucratic process and lack of harmonization of donor funding in the health sector, leading to duplication and inefficiency.
Governance Framework
Leadership and governance will deal with the interrelationships, roles, and activities of the ZNPHI in the provision of public health security. The framework for leadership and governance focuses on the regulatory framework; strategic vision; transparency, accountability, and institutional arrangement The organizational structure governing these processes is considered in dealing with the leadership and governance issues.
Regulatory Framework
The Zambia National Public Health Institute Act of 2020 provides the regulatory framework for the continued existence of the ZNPHI and sets out the mandate and functions which include coordination of public health security, the establishment of the Public Health Emergency Operations Centre, National Public Health Laboratory and the National Public Health Emergency Fund.
The Act requires the appointment of a Board by the Minister to be the governing body of the Institute and provide a strategic direction. The Board will also be required to approve the annual budget estimates and financial statements of the Institute, annual work plan, action plans and activity reports of the Institute. Furthermore, the board approves the policies, programs and strategies of the Institute and monitors and evaluates the performance against approved budgets and plans. The Board will execute its mandate and functions through the Director-General who is appointed by the Board.
Strategic vision
The ZNPHI has a clear vision of a desired future state that members of the institute identify with themselves. This has fostered the energy, commitment, and purpose among the ZNPHI staff and has helped to clarify the institute's direction on what to do.
Transparency and Accountability
ZNPHI structure has in place an Internal Audit Unit, which is aimed at enhancing accountability at all levels of service delivery within the Institute. The roles of Internal Audit, as established under section 17 (1) of the Public Finance Management Act No. 1 of 2018 will be; to ascertain that the risk management and internal control systems are in place and continually being improved and optimised in response to an ever-changing environment; to provide reasonable assurance to the Controlling Officer, Sub-Warrant Holders, and the Secretary to the Treasury that internal controls exist and are being complied with as required by the law and other regulations; and to ascertain, evaluate, and improve on the governance processes put in place by management.
ZNPHI has governance structures that help to enhance accountability such as the Finance committee, the Audit and Risk Committee, the Technical Committee, and the Human Resources and Administration Committee
ZNPHI is mandated to communicate matters of public health emergency to the policy makers, program managers, and the public. The Communications unit provides information through various channels such as high level health security update report, parliamentary reports, ministerial statements, situation reports, outbreak reports and press statements. Most of these are uploaded for public use on the ZNPHI website. Furthermore, a call center is in place for interactive communication with all stakeholders particularly the public. This tool also provides efficiency for Event Based Surveillance as the public continuously alert the institute of events of public health events in the communities. While the call center is an efficient bridge between ZNPHI and public, the toll free line available is under the Disaster Management and Mitigation Unit.
During emergency preparedness and response, a multi-sectoral Incident Management System is used to coordinate response activities. This platform for all stakeholders to access timely information on epidemic status, strategies employed and resources availed or required.
In order to enhance transparency and accountability, the ZNPHI is set to adopt a grievance redress mechanism (GRM) which is a set of arrangements that enable local communities, employees, and other affected stakeholders to raise grievances with the institute and seek redress when they perceive a negative impact arising from the ZNPHI's activities.