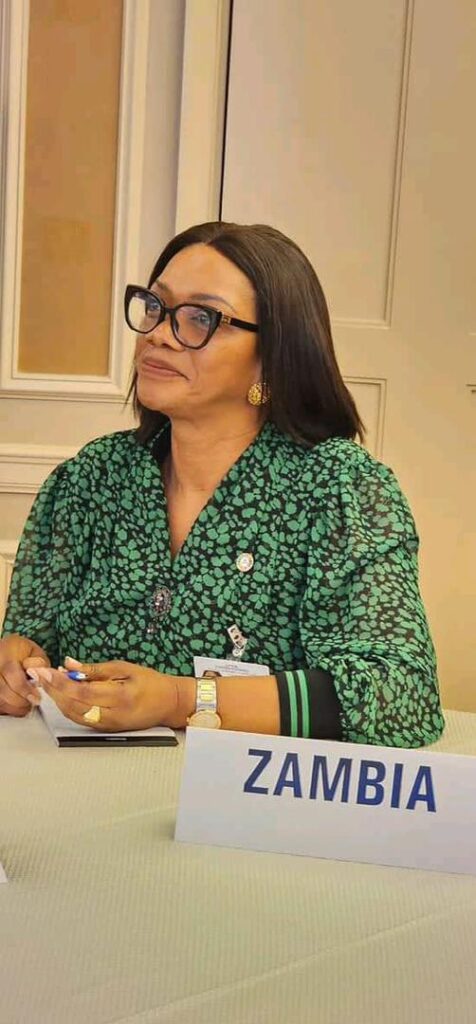 Minister of Health, Hon. Sylvia Masebo, M.P is leading the health sector delegation at this session of the 78th United Nations General Assembly (UNGA-78) that opened on September 5, 2023, with High-Level Week taking place September 18th-22nd in New York City.
In her speech at the High-Level event on Pandemic, Prevention, Preparedness and Response on the topic, "Making the world safer: Creating and maintaining political, Hon. Masebo stated that Zambia has prioritized public health security and committed some locally sourced funding to the cause by building bilateral and multilateral partnerships having recognized the critical role they played in the COVID-19 pandemic and other outbreak responses. Using an "All-Government Sector approach" Zambia continues to heighten disease surveillance and early warning systems, alongside the implementation of International Health Regulations (2005).
The Hon. Minister called for continued collaboration with different stakeholders in the quest to strengthen public health and contribute positively to global health security. She specified that currently the Government is mobilizing local resources and exploring various funding opportunities including the Pandemic Fund, the Global Fund among others. These resources are focused on building systems for enhanced disease surveillance, laboratory capacities, rapid response mechanisms, workforce capacity development and integrated and innovative community centric interventions.
In this regard, Hon. Masebo emphasized the need for support to strengthen port health capacities for disease surveillance, prevention, preparedness, and response. She added that "By recognizing the interconnectedness nature of global health, Zambia acknowledges the importance of multisectoral approach and the "One Health Strategy". We therefore call for strengthening collaboration between state and non-state actors. Furthermore, capacity building for a multisectoral workforce relevant to outbreak response is an ongoing agenda for global public health security". She reassured them that Zambia is committed to strengthening and building bilateral and multilateral partnerships as they are extremely important.
In ending her remarks, Hon. Masebo encouraged members of states and the global community to support and commit financial and other resources (such as expertise) that will strengthen national, regional and global public health security especially in the areas of disease prevention, preparedness and response.
For more information contact
Dr. Mazyanga L. Mazaba
Director Public health Policy, Diplomacy and Communication
Senior Advisors Partnerships
mazyanga.mazaba@znphi.co.zom
+260977879400